Easy vegetable soup recipe that can help prevent body ache and fatigue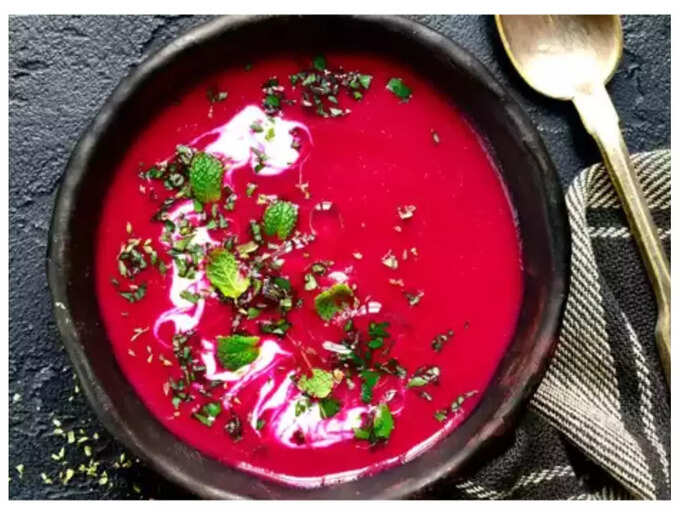 In our day-to-day life we often suffer from common health issues like body ache, joint and muscle pain, headache, fatigue and tiredness. But most of us often overlook these issues by blaming it on the change of season or hectic lifestyle. However, some of these common day-to-day issues are a result of nutritional deficiency, but most of us feel that our diet has the right balance of every nutrient which our body needs for proper functioning.
Even if you are consuming a balanced diet, there are chances that you might miss out on nutrients as it is difficult to add vegetables from every group in one meal. There are some nutrients that are essential for the body and if consumed in optimum amounts it can take care of a lot of our daily lifestyle related health issues. Here's a simple vegetable soup which will give your body the right balance of nutrients to meet the daily requirement. How to make nutrient-dense vegetable soup at homeREADMORE
02/4​The process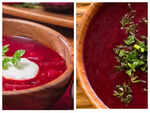 To begin with this simple recipe, wash, clean and chop the veggies and take a pressure cooker/ soup maker or a pan.
Add in the veggies along with water, salt and pepper. Do not add garlic and ginger. Pressure cook the veggies for 2-3 whistles.
Once the veggies are cooked, mash the veggies. Next, heat a pan and add 1 tablespoon butter/ olive oil, garlic, ginger, salt and pepper. If you have added salt and pepper while boiling, then adjust the amount of spices as per your taste.
Add in the mashed veggies along with the stock, let it simmer for 3-4 minutes, add a handful of coriander leaves and enjoy!READMORE
03/4​Ingredients required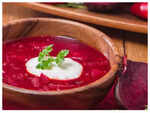 To make this healthy vegetable soup, take 1 beetroot, handful of green beans, 4-5 garlic cloves, soaked moong dal, 1 carrot, 1 onion, 2 medium tomatoes, handful of baby spinach leaves, 1 cup broccoli, 1 cup grated/ chopped raw green papaya, salt and pepper as per taste, 1 teaspoon of olive oil/butter.
04/4​What makes this Vegetable soup so healthy?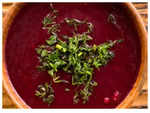 This simple winter vegetable soup includes a healthy melange of fresh and seasonal veggies which are rich in antioxidants, minerals and vitamins. Beetroot and carrots are root veggies, which are rich in beta carotene, vitamin A, C, folate, iron and potassium, which helps in lowering the blood pressure, keeps the heart healthy and it's antioxidants help in cell regeneration.
The other ingredients of this soup like raw papaya, broccoli and spinach are great sources of dietary fiber, vitamin B6, E and the presence of antioxidants in green papaya reduces the risk of cardiac diseases as it prevents the oxidation of cholesterol which may lead to blockage in the arteries.
What's more, the presence of an antioxidant called Lycopene in tomatoes helps in preventing the damage caused due to the free radicals and the fiber, potassium, vitamin C and choline content in tomatoes improve heart health and reduce the risk of strokes. Lastly, the addition of garlic and ginger helps in reducing inflammation, body pain and its organosulfur compounds and gingerol are great for building immunity, boosts metabolism and combats seasonal ailments.
Continue Reading: https://timesofindia.indiatimes.com/life-style/food-news/suffering-from-low-energy-and-body-ache-this-easy-homemade-veg-soup-can-help/photostory/87740523.cms